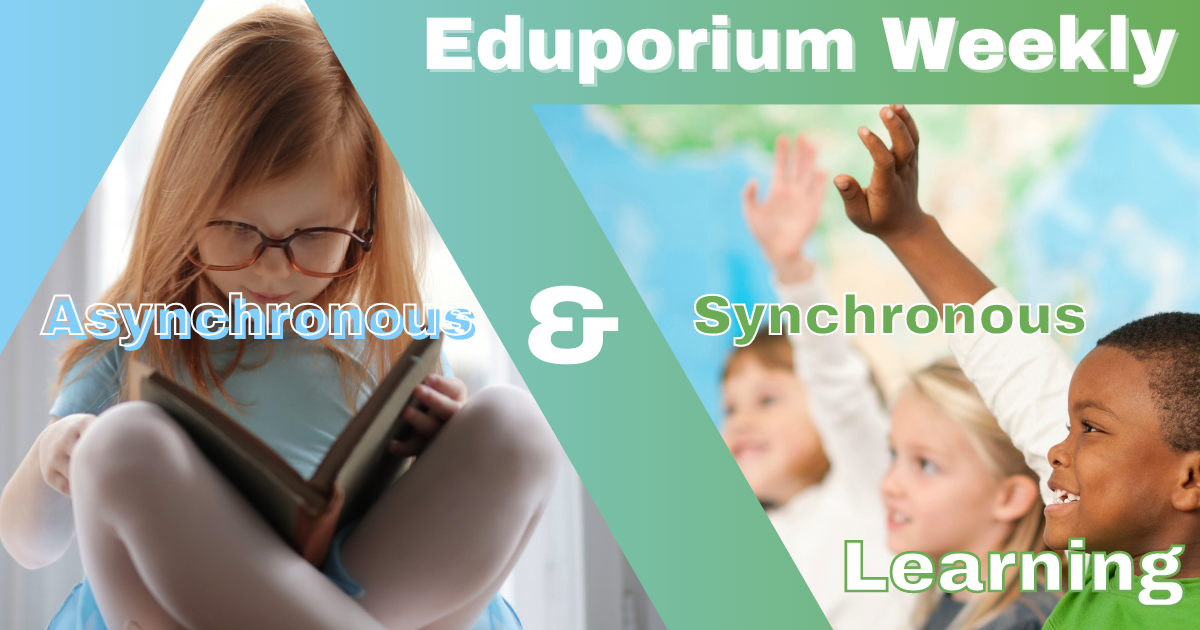 First off, let us welcome you to 2021 and wish you a happy new year! We know that 2020 was not the year that anybody was expecting and we think we speak for everyone when we say we hope 2021 brings with it a return to normal life and learning experiences. We certainly hope everybody can return to the classroom full-time this year, but we know that remote learning topics will still dominate the discussion much of the time. Among those topics is the debate between synchronous and asynchronous learning -- a couple of buzzwords you've likely come across since the start of your research on distance learning strategies. They have each become important topics throughout various education communities and the subtle features of each are important for today's educators to know. Check out the first Eduporium Weekly of 2021 and learn more about synchronous and asynchronous learning in today's instruction.


Defining Synchronous and Asynchronous Learning

There are a handful of different ways to look at synchronous and asynchronous learning as it pertains to remote education and, undoubtedly, there will be subtle distinctions in almost every approach to how teachers educate their students when not in the classroom. The key indicator of whether learning is synchronous or asynchronous is whether or not all students in a given class are present for meetings or discussions. Learning can also be synchronous some of the time and asynchronous other times while also switching formats based on the class, subject, age, or mastery levels of the students. Examples of synchronous learning typically include class-wide lessons or lectures that teachers deliver to all students live while asynchronous learning often involves students watching recorded presentations on their own time, watching videos, and completing the same assignments as their classmates but on their own.

Allowing the option for learning to be asynchronous when it's not taking place in the classroom can have a number of benefits for students. It also often helps determine how successful virtual learning initiatives ultimately are, which is often related to students being able to access the information they need and demonstrate what they've learned in their own way and on their own time. These days more than ever, students have their own unique learning styles and there are often small differences in their preferences when it comes to how they receive their education. When learning in an asynchronous way, the flexibility that's created helps students choose what works best for them. Since the content they need is presumably all able to be found online, students can learn asynchronously at any time of the day and from any location. They can still do all of the things they need to do, like access content, ask questions, practice skills, and show understanding, but they're doing it on the schedule and at the pace that's best.

Synchronous learning implies that students will be meeting as a class with their teachers at the same time every day or every week -- just like they would when actually at school. They will presumably still have scheduled quizzes, tests, and assignments to complete and could possibly access scheduled chat sessions with their teachers for clarification on any areas of confusion. Synchronous learning could also include scheduled small-group sessions for students to discuss topics among themselves or work on group projects. Asynchronous learning, on the other hand, does involve a lot of educational content that is not delivered to students live. These can include video, email, discussion, and social media resources as well as online documents, like Google Docs, that they can collaborate on without having to do so in real time. Like we said, however, exploring education through either synchronous or asynchronous learning takes time and often involves feeling out what works best.


Benefits of Asynchronous Learning

When choosing between these two learning models, teachers may realize that they offer different benefits for different types of students or students of different ages. Since asynchronous learning is more novel to a lot of teachers and students, many are discovering potential benefits to this shakeup, which include things many of them never really had to consider previously. As remote and hybrid learning has drawn on, both teachers and students are starting to recognize and become accustomed to some of the benefits of asynchronous learning. The most noticeable benefits are often increased flexibility, the option for students to move through content and assessments at their own individual pace, the chance to try new, virtual forms of collaboration, and new ways for them to show mastery.

These days, with so many working from home, flexibility has become a very common word throughout education. Asynchronous learning helps allow teachers to accommodate their students at the points in time that work for them and their families. This is especially crucial in families with more than one child and those with parents who are working at the same time instruction would be taking place. Being able to access video content or other learning materials at different times of the day, like the evening, can truly do wonders for ensuring that students get their education and parents are able to do the things they need to do. As for mastery, giving tests and quizzes isn't always going to happen in the remote classroom, so many students are using portfolios to demonstrate the knowledge they've gained. They can build online portfolios of original projects or start collections of resources they've used in learning.

One of the other benefits of asynchronous learning is the opportunity for self-paced learning. Not only can students move through the required content at their own pace, they can also theoretically create and stick to their own schedules, allowing them to complete their work when the time is best for them. This also helps them focus more on areas they're struggling with as opposed to rushing to meet deadlines. Finally, collaboration can actually be a big part of asynchronous learning though it may not always be real-time collaboration. Using tools like message boards and Google Docs, students can share ideas and complete work on their own time while still being able to receive inspiration from peers. Since collaboration is a huge part of 21st century learning, this is obviously very valuable. They're also still able to reach out to teachers when they need help and contribute to creating a more in-depth learning experience overall despite being isolated.



Strategies and Preparations for Asynchronous Learning

As an educator, you may have found that asynchronous learning has worked best for your or for your students (or both). Or, you may find yourself in the position of being asked to give it a try by an administrator. In any case, having a plan for delivering effective asynchronous instruction is as important as developing traditional lesson plans. Like we've said, video lessons and supplemental video content are big components of asynchronous learning and teachers have been known to record the lectures they would have delivered to students live for them to view at any time. Combining video content with supporting text resources or photos can also be very helpful. Finding and sharing videos that feature an explanation and demonstration of the application of certain skills can also go a long way in helping students gain a better understanding of the instruction they receive remotely.

Asynchronous learning can also feature class or small-group discussions that don't necessarily have to be live. Using discussion boards or other threads can allow students to collaborate on their own time. Group projects can still take place as well using tools like Google Docs and, if possible, Google Meet. Since they're working remotely, teachers might also find benefit in introducing students to task management tools. Besides that, educators can create assignments using any number of online platforms and, if possible, give students a choice in how they show what they've learned. It could involve completing challenges within one of the approved platforms, creating a multimedia report, or even asking students how they would like to complete their work. Giving students choice in remote learning has been one way that educators have been able to keep them engaged.

Some of the ways teachers can prepare for transitioning to asynchronous learning or developing a long-term model center on the needs of students. It's crucial that teachers continue to provide them with feedback and set aside one-on-one time with any student who's shown that they could use some enhanced instruction. Lessons and instructional content also need to remain accessible for all students and just because they can theoretically access it on their own time doesn't make it fully accessible. Teachers might need to consider how high-quality videos could slow down Internet connections for students in certain areas, for example. Finally, moving beyond simple assignments and challenging students to think critically and collaboratively is much more valuable to them. If this can be done in your remote learning -- whether synchronous or asynchronous -- it's often worth exploring.


How to Choose Between Synchronous or Asynchronous

For any educator who has the leeway to decide whether he or she wants instruction to be synchronous or asynchronous, there are some reasonable factors to consider. Like in making any decision, weighing the pros and cons as well as the feasibility and long-term viability of each model certainly comes into play and teachers can definitely draw on the distance learning experiences they've had so far as well. Students in different schools and at different grade levels have different academic, technological, and emotional needs that they'd typically have met by their teachers. One of the first things educators might want to look at when deciding between synchronous and asynchronous learning models is the technology students in each class are equipped with as well as their schedules. This might vary between classes, so teachers may also have to decide if they're going to teach 100 percent one way or mix things up.

The first thing to consider is student Internet access as well as Internet speed and reliability. Teachers might also want to survey students and parents to get a sense of their home learning space and if it would be better conducive to synchronous instruction or asynchronous instruction. Assessments and lessons plans would differ between models as well and so would preparing parents and students for how learning will take place. For instance, in synchronous meetings, students will be expected to be on time and to participate as needed while, in asynchronous learning, they'd be expected to focus on the assignments without teacher supervision. Determining student and parent preferences can be a good way for teachers to decide on their plans. And, as you'd probably expect, once initial surveys are completed, some pros and cons of each option will appear and those can also be used in deciding whether to continue or to revert back.

The biggest benefit of synchronous instruction is that it allows all students to connect with each other live as well as for them to connect with their teachers. This leads to more authentic interactions, especially between teachers and students, and allows questions to be answered in real-time. Being live with teachers requires streaming video, however, and that requires a strong Internet connection. The pros of asynchronous learning, which we've already discussed, allow students to learn independently, organize their days, and access content in the way that works best. Being able to access content in a shared place at any time helps for scheduling purposes and also if a parent or student would like to revisit something later on for review. In either case, choosing between synchronous and asynchronous learning is just the beginning. Both models still require effective pedagogy in order to be valuable for students and allow them to continue to grow academically.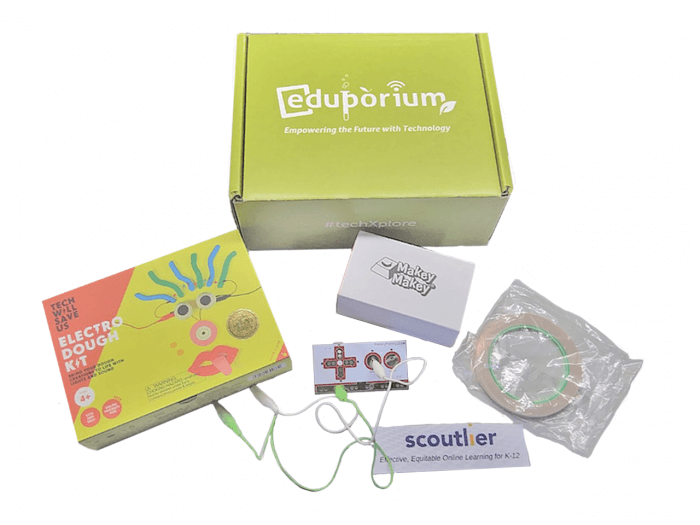 STEM Tools for Asynchronous and Synchronous Learning

To round out this analysis of synchronous and asynchronous learning, we'll do what we often do -- talk about how tangible and virtual STEM tools fit into play, giving two examples of asynchronous STEM options and our favorites for synchronous instruction. One of the best virtual STEM solutions we've seen since the onset of remote learning is the virtual Dash robot in the Dash's Neighborhood programming environment. Using this platform, students can complete assigned lessons at their own pace and when they have the time to do so. The platform can also be used to track student coding progress and inform teachers about any who may potentially be struggling. Students can try programming the virtual Dash asynchronously and don't necessarily need teacher supervision to keep their coding education going.

For STEM experiences in synchronous learning, we've actually worked with professionals from the Scoutlier team to collaboratively develop a remote learning solution that helps foster STEM experiences from anywhere. Known as the Learning: Everywhere Kit, students can complete hands-on, STEAM projects using the included materials and pair those tangible making experiences with digital curriculum and lesson plans found within the Scoutliter platform. In this particular kit, we offer some of the Tech Will Save Us Electro Dough, a Makey Makey, conductive dough, conductive tape, extra batteries, and easy access to the Scoutlier environment. From there, teachers can lead synchronous lessons and, if you'd like to learn about more of the specifics of the kit, we invite you to contact our team.

Now for one last virtual and asynchronous recommendation. Like the virtual Dash platform, additional online versions of popular educational robotics tools have been popping up since the pandemic closed school buildings. One of those is the digital version of the Root Robot, a popular programmable robot for students in K-12. Students can create programs in the same three levels of programming (block, hybrid, and text) that they would with the physical Root and see them play out immediately with the virtual robot on the screen. Another option is the virtual Tello EDU drone, which students and teachers can access if they sign up for one of the new DroneBlocks memberships. It's similar to the other tools and students can see a tiny, virtual drone take flight on their screen once they've created programs!

If you have any questions about using STEM tools in synchronous, asynchronous, remote, or hybrid learning, we're here to help. Feel free to contact the Eduporium team or explore additional resources on our blog, Twitter, and Instagram. From all of us, we wish you a Happy New Year and look forward to continuing to help educators innovate with meaningful technology in whatever teaching environment they're using in 2021!