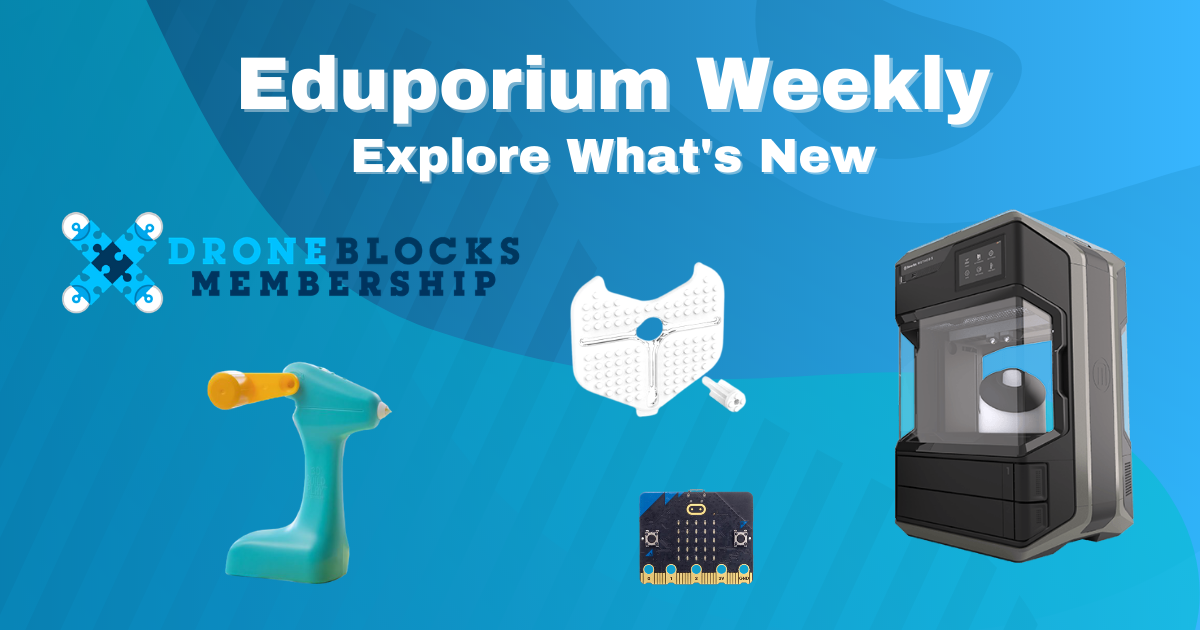 If you've kept up to date with our other blogs, email announcements, and social media posts, you may already be well aware of the newest STEM and STEAM tools on our store. If that's not the case, however, we have you covered with a rundown of five of the newest and most exciting EdTech offerings you can now get from us. Our one-stop EdTech shopping experience is a favorite among educators and our Educator Discount on technology and free quote generation help make it easier on educators to obtain STEM tools from various manufacturers and STEM disciplines in one place. So, what's among the newest offerings we're providing for in-person, remote, or hybrid learning?  
DroneBlocks PD and Memberships
We've offered DroneBlocks' solutions for a couple of years, so, now that they've updated those solutions, we'll tell you all about what's new. The concept remains largely the same and the purchase of the new DroneBlocks' offerings gets educators access to interactive, virtual professional development opportunities to help them learn how they can start effectively teaching coding with the Tello EDU drones. In a world in which so much of education is now virtual, including professional development, the DroneBlocks' solutions have proven to be valuable for STEM teachers. There are now two revamped professional development experiences educators can opt for when teaching with DroneBlocks. There is the 2-hour virtual PD session and the 4-hour virtual PD bundle, which are both available now on the Eduporium store. 
The two PD options are largely the same except, of course, for the fact that the PD times are extended with the more robust option. Besides that, the PD experiences are one-on-one and designed to really familiarize educators with teaching using the software paired with one of the drones. They're designed for educators with any level of experience using drones and coding in the classroom and help teachers learn about everything from drone technology to key troubleshooting tactics. They'll also learn how to leverage the virtual DroneBlocks content to engage students in hands-on STEM experiences with real-world relevance. Some of the sessions include help with teaching block and text coding using DroneBlocks and the Tello EDU, covering system compatibility, and creating extensive STEM experiences for students with a variety of skill levels and interests. 
The membership options are also available for both teachers and students. An individual membership for students is available on our store as well as a more complete teacher membership, which is intended for 10 educators. Both types of memberships provide access to the DroneBlocks platform for the corresponding number of users for one year. With the memberships, educators are granted access to the DroneBlocks curriculum, including videos and activities they can use with students. Students can also access the activities as well as the virtual Tello EDU simulator, which they can use to learn about drones and programming from anywhere without needing the physical drone. Especially in this era of remote learning, the fact that this content can be accessed virtually greatly helps educators continue their STEM education offerings, including teaching about drones and coding!
Root Brick Top Connector
You might be familiar with a number of educational robotics tools (we hope you are!) and, if that's the case, you may have also used another technology with your students. We're talking about plastic building bricks, like LEGOs, which are a pretty popular staple in the STEM world. Of course, students can use LEGOs to build all sorts of structures, tapping their creative and engineering skills to explore all sorts of science concepts in the process. There are more and more educational robotics tools that have attachments to incorporate some form of the LEGO blocks so that, on top of creating programs for the robot to complete, students can also fashion their own custom versions of that particular robot to program! One of the most popular examples of this is the Edison Robot, but others include the mBot and Cubelets and, as you might have guessed, it now includes the Root Robot!
On its own, the Root Robot offers extensive opportunities for educators to teach coding and other 21st century skills through hands-on problem solving. It moves around like a Roomba robot (since it's manufactured by the same parent company) and even has the ability to scale whiteboard surfaces! Adding in the Root Brick Top connector makes student inventing and coding with the Root that much more exciting. Students can write the same programs using the iRobot coding app, but take them to new heights by building their own robot add-on parts with LEGO-like blocks and then connect them using the Root Brick Top, which slides right on to the top of the robot. Once attached, students can build onto it and attach blocks to create any shape they'd like!
With the Brick Top accessory attached, students can then do all of the same things they would normally do with the Root robot. They'll need a compatible iOS device for programming and, within the iRobot Coding app, they can access three levels of programming that get progressively more complex. It starts simple with icon-based coding, then transitions to hybrid coding, and then students can try their hand at full text programming. This progression helps make Root viable throughout K-12 education and the option to add on the Brick Top helps make it that much more interesting. Challenging students to build increasingly complex structures can be the perfect way to scaffold STEM instruction and to keep them craving more learning opportunities with Root specifically!

MakerBot METHOD 3D Printers
MakerBot's line of 3D printers are at the top of the list when it comes to power, precision, affordability, and ease of use. Those are just some of the reasons that educators around the world have been turning to the MakerBot printers for makerspace projects big and small for some time now. Even in remote learning, the emergence of the MakerBot CloudPrint platform has helped educators continue to make use of the MakerBot 3D printers and still provide students with hands-on learning experiences. Among the latest 3D printing advances released by the MakerBot team is the line of METHOD 3D printers. The MakerBot METHOD series features four top-of-the-line printers, including two traditional ones and two that makers can use to create builds using carbon fiber materials!
There are two versions of each 3D printer and four total: The MakerBot METHOD, MakerBot METHOD X, METHOD Carbon Fiber, and METHOD X Carbon Fiber. With the 'X' version of each printer, users can access greater speed and power to help make their 3D printing jobs more efficient and extensive. In general, the MakerBot METHOD 3D printers help combine industrial strength 3D printing with at-home accessibility, giving everyday students or makers a powerful tool that meets them at their level. They feature a heated chamber that helps deliver stronger, manufacturing-grade parts and a build speed of up to twice as fast as traditional 3D printers. They can print with MakerBot Precision Materials, ABS, ASA, PLA, Tough, PVA, and SR-30 filaments and are compatible with the MakerBot Print and MakerBot Mobile software solutions. 
As for the Carbon Fiber printers, they feature the same heated chamber and manufacturing-grade capabilities as the METHOD printers. Its carbon fiber reinforced nylon provides high levels of strength, stiffness, and heat resistance, which makes these printers great for producing structural components and metal replacements. The printers are also capable of creating any shape that could be needed and boast a strength-to-weight ratio that's incredibly impressive. For any educators at the high school or college level, the MakerBot Carbon Fiber Edition 3D printers can make an awesome addition to school makerspaces. To learn more about each of these four MakerBot 3D printers or to submit a quote request to the Eduporium team, visit the MakerBot section of our store.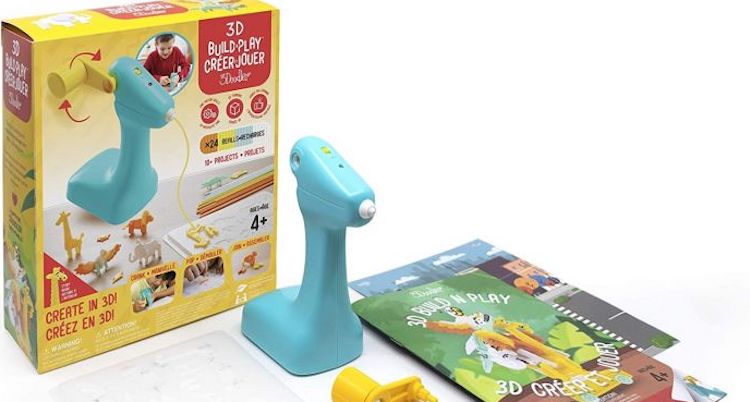 3D Build & Play
The line of 3Doodler 3D printing pens had long been helping elementary, middle, and high school students create three-dimensional structures with the simple stroke of a hand. Wanting to give younger students the chance to create in a similar way, however, the 3Doodler team has created the 3D Build & Play device, which is essentially a 3D creation tool designed specifically for students as young as kindergarten. While not quite the same as the 3Doodler Start or the 3Doodler Create+, the Build & Play does utilize a similar concept. Students can feed filament strands into the device and, instead of using it as if they were writing, they can crank the filament out by turning the lever. The lever can also be adjusted to allow both right-handed and left-handed students to use the Build & Play and students should be able to quickly get the hang of how the device works. 
Children as young as four years old can learn how to use the 3D Build & Play and the opportunities for hands-on building and creating are only the half of it. Even if they don't yet know how to read, the Build & Play comes with an included storybook, which serves as a central component of the kit. Designed to incorporate storytelling, students can flip through the book or have someone read it to them, meeting new characters as they go along. Once they meet a new character, they'll have the opportunity to create a three-dimensional representation of them and use it in their learning! The kit comes with step-by-step instructions for how students will create the characters and, by following along with the story, they'll know which ones to create at a given point in time. The kit also includes a plastic tray with cutouts the exact shape of each character, which allows kids to crank out the right amount of filament and then form it so it dries to the perfect shape!
The Build & Play kit comes with the Build & Play device, the mold tray, 24 strands of filament refills in different colors, two different story backdrops, and the storybook. It also includes a 365-day warranty and can be used to help young kids develop STEAM skills as well as fine motor skills. The hands-on nature of the Build & Play also helps with intellectual development and helps inspire creativity as children work to tell stories in their own way. Also, the device is safe for kids to touch and the filament is not hot when it comes out. It is warm, however, which allows students to form it to the perfect shape before it cools and hardens. The filament is also BPA-free and non-toxic as well as biodegradable in household composters. To learn more about the 3D Build & Play, visit the 3Doodler section of our store!
micro:bit V2
The micro:bit was already one of the most comprehensive and popular STEAM tools around, so we're expecting some pretty huge demand for the new micro:bit V2. It's currently scheduled to begin shipping in January and will be available at the same price point as the original micro:bit board (you can pre-order each of the kit options now). It also looks largely the same, but is fitted with some new features that make it much more robust and versatile when it comes to STEAM projects in the classroom or at home. The V2 can be used with a laptop, desktop, or a tablet and its primary programming language is MakeCode. If using the micro:bit V2 with a computer, students would need a USB cable, which is included in the micro:bit Go kits but, if they're using it with a tablet, they may be able to pair the micro:bit with the device via its Bluetooth capabilities. In any case, the possibilities for programming are very extensive and the micro:bit V2's new features help create even more options.
We've been talking a lot about the micro:bit V2 over the last few weeks and invite you to check out some more content, including some of the ways it can be used, in our Eduporium Experiment blog. As mentioned, there are four micro:bit V2 kits that will be available -- similar to kits that had been offered with the original micro:bit. There will be the Single Kit, Go Kit, Club Kit, and Bulk Kit. The Single Kit includes just the micro:bit V2 board and User Guide while the V2 Go Kit includes those two components and the USB cable, battery pack (which can be used in a lot of projects to provide more power), and it also comes with the two AAA batteries needed to use the battery pack. The Club Kit comes with 10 units of each of those components and the Bulk Kit comes with 300 micro:bit V2's and 300 User Guides, but no USB cables, battery packs, or batteries. 
The three main new features of the micro:bit V2 are its built-in speaker, built-in microphone, and capacitive touch sensing logo. The micro:bit logo on the front of the board now also doubles as a touch sensor, allowing students to control certain things by touching that spot (similar to a touchscreen on a mobile phone). Also, its built-in speaker allows the micro:bit to play sounds, which can be added to programs students create within the MakeCode environment using the MakeCode, Scratch, or Python programming languages. Finally, this micro:bit can also sense sounds, like a clapping noise, for example. This can also be used in programs as students include elements like making the micro:bit perform a certain action when it hears a sound. To pre-order the micro:bit V2 now, visit the Eduporium store and have a happy Holiday Season!
For the latest EdTech, STEM, and 21st century education news, follow Eduporium on Twitter and Instagram, like us on Facebook, or sign up for our newsletter for announcements on the best EdTech deals around! Have an idea for the next Eduporium Weekly theme? Send us a message on any of our social media accounts!