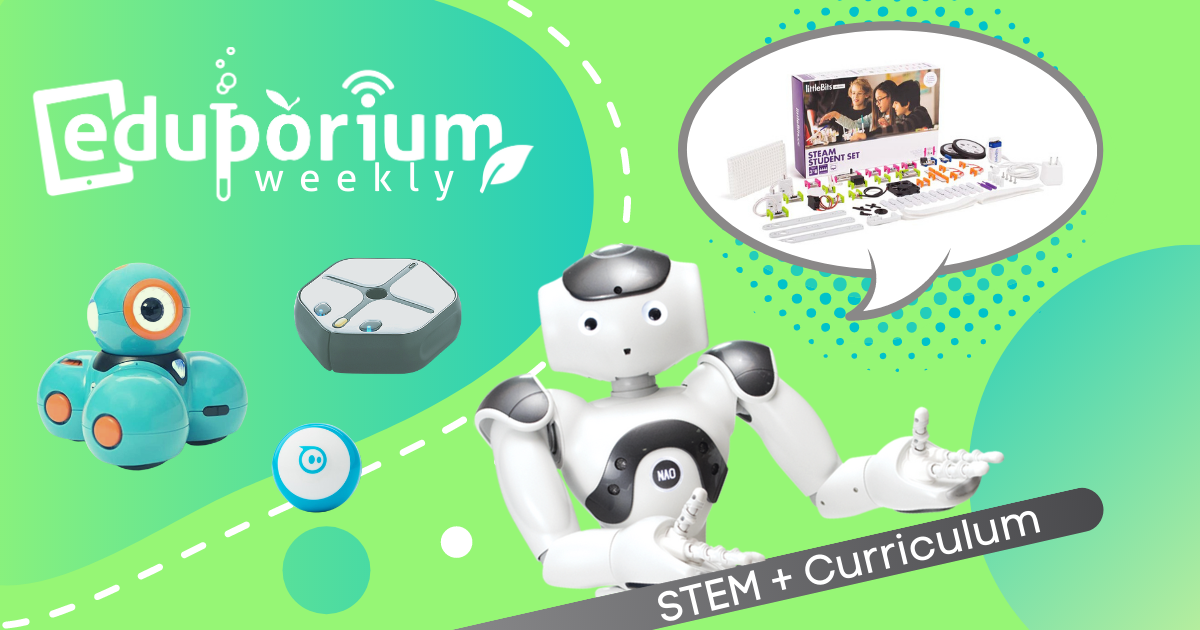 Hands-on STEM kits are, of course, popular and effective options for preparing kids for 21st century problem solving by providing them with opportunities for developing real-world skills. Whether it's robotics, circuitry, engineering, coding, or something else, there are obviously a myriad of options teachers and students can use, but some of the most effective tools are those that include pre-created curricula. Having a detailed curriculum plan to follow when introducing new STEM tools to students allows educators to ensure they're getting the most out of these lessons and helps allow students to take part in more structured activities and projects. So, this week, we're talking about some of our favorite STEM tools that also include curriculum or project guides for educators. 

Dash Robot

The first on the list is one of the most reliable robotics tools for use in education: The Dash Robot. Created by the great minds at Wonder Workshop, the Dash is available for purchase in a variety of kits, including an individual kit, classroom packs, and even a new home learning kit. Students can use the actual Dash robot for hands-on coding experiences with a compatible device and, if they don't have a robot of their own to use, their teachers can set them up with the virtual Dash robot within Wonder Workshop's Class Connect environment so they can still continue learning coding from home. As the Dash class packs have evolved, they've helped students in the elementary grades explore key coding concepts through fun projects and curriculum examples included in the kits!

Depending on the kit educators purchase, many of them come with included curricula and project guides for students. Also, if students are using the virtual Dash, they'll have individual projects that they can find within the Class Connect platform for them to complete. There is also the option to purchase the physical Dash robot with Wonder Workshop's Challenge Cards. These cards each contain project samples and instructions so students can navigate various challenges that have been created to help them learn certain STEM and computer science skills. The Challenge Cards are a great resource for teachers to have because they allow them to combine fun activities with serious STEAM development for students when they're learning with the Dash robot in the classroom or at home. 

The Cue Robot from Wonder Workshop also has its own set of curriculum guides, which can be purchased separately from the robot. You can find the three different levels for using Cue to introduce students to text coding on our store or get all three in one bundle! As for the Dash Challenge Cards, they feature challenges that progress in difficulty for students and cover the most important concepts for getting started with coding. Each card features a coding challenge on a particular computer science concept, like loops, sequences, events, or conditionals. As students navigate through the challenges using Dash and the app of their choosing, they'll start to build the foundational skills needed to progress to more complex types of coding -- just one of the reasons this simplified curriculum guide creates a lot of value for educators teaching with Dash!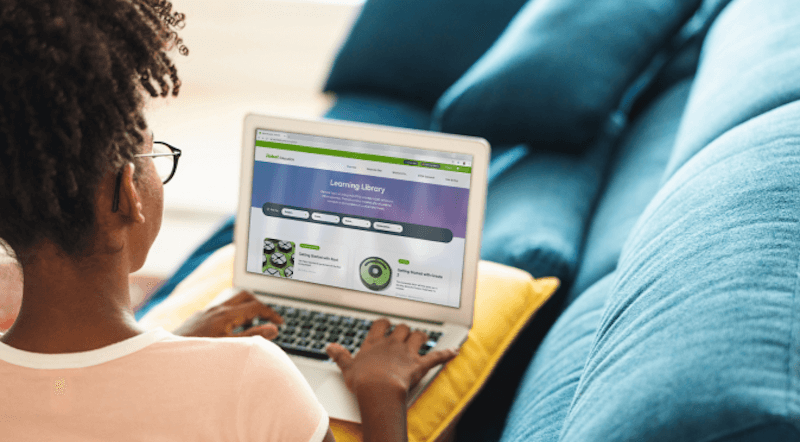 Root Robot

Another powerful STEM tool for incorporating coding and computational thinking in a wide range of grades is the Root Robot. The Root is one of best educational robots and truly has applications for in-depth computer science education in just about every K-12 grade. It's unique in the sense that it features three different levels of coding, which allow students of different ages and ability levels to program the robot in the way that works best for them. The three coding levels include block coding, hybrid coding, and text coding, which makes it very accessible in computer science classes. Plus, in this era of remote learning, the virtual version of the Root has been developed and offers the same programming possibilities to students as they would get with the physical version in the classroom. 

With all the possibilities for using Root in STEM education, you might think it would be helpful to have a curriculum guide. Hey, good news -- you can get exactly that! There is a Root Curriculum Guide that educators can purchase and use with the Root robot in in-person or distance learning lessons. It's fully digital and downloadable to your device after purchase. The Curriculum Guide can be found on our store by searching for 'Root' and features everything educators need to know for getting started with Level 1 of teaching coding with the robot. The Curriculum Guide is available for purchase on its own and also comes free with any of the Root Classroom Packs. With the Curriculum Guide, teachers can integrate lessons on introductory coding, Root's touch interaction, how to draw with Root, loops, patterns, and more.

The Curriculum Guide also includes fun and helpful lessons, projects, and games for students to try out when programming with Root. The lessons that are part of the guide are designed to be used with the first level of coding blocks found within the Root Coding app (the block coding level). In addition to the projects we already mentioned, the guide includes help for programming the Root's wheel speeds, its color sensing abilities, and how it senses and responds to various stimuli. For each area, like touch interaction, for example, the content includes a summary of what students will learn, activity suggestions, coding concepts that are covered, and teacher tips for helping students understand the technology involved with programming Root. To explore the Curriculum Guide and Root Robot further, visit the Eduporium store!


NAO Robot

The NAO Robot is unlike any of the other robots on our store and unlike any other robot anywhere, really. It's power and precision make it an incredible addition to any STEM classroom, but what we're referring to has more to do with the fact that it's not always necessarily used as a component within projects. Most often, creating programs for the NAO takes time and its size makes it tough to incorporate other components so this tends to result in the program students create for the NAO representing the entirety of the projects they do. The good news is that, when coding with NAO, the possibilities are incredibly extensive. If you've seen its price point, you might understand why, but the NAO is equipped with numerous sensors and cameras that can all potentially be used in building programs with a software known as Choregraphe. 

The educational content that can be used with the NAO comes in the form of two very in-depth ebooks. Part 1 provides all the information educators need to know about the robot and is titled 'The Basics.' Part 1 is broken down into three main sections: A, B, and C. In Section A, educators can really start to learn about how they would go about using the NAO robot in education with insights into the most important tips and tricks to know, explanations of the NAO's sensors, and they'll also get to see examples of ready-made programs. In Section B, they'll learn about the NAO's robot page, which is an individual IP address that's typed into a browser for each different NAO. From there, they'll learn how to activate their robot, turn it on, and pair it with the Croregraphe software before learning about its autonomous life to conclude Section B. In Section C, educators can learn about what comes in the NAO box, how to use Choregraphe's Level 1 features, and explore some of the simple boxes within Choregraphe. 

Part 2 of the ebook is a bit more curriculum oriented and equally as valuable to educators. Titled 'Creative Project Ideas,' Part 2 contains examples of projects teachers can lead for students who are using the NAO with the Choregraphe software. Part 2 is formatted differently than Part 1 and includes instructions for designing and executing 20 different programming projects using the NAO and Choregraphe. It starts with a project called 'NAO as a Sales Assistant' and includes some others like 'NAO recognizes famous faces,' 'NAO plays soccer,' 'NAO detects a red ball,' and more. The projects are brown down into different categories, like NAO as a teacher, NAO remote control, Sport with NAO, NAO shopping, and NAOmarks and each project includes an overview, a list of required materials, solution suggestions, and how to get started, making these ebooks valuable educator pieces when teaching with NAO!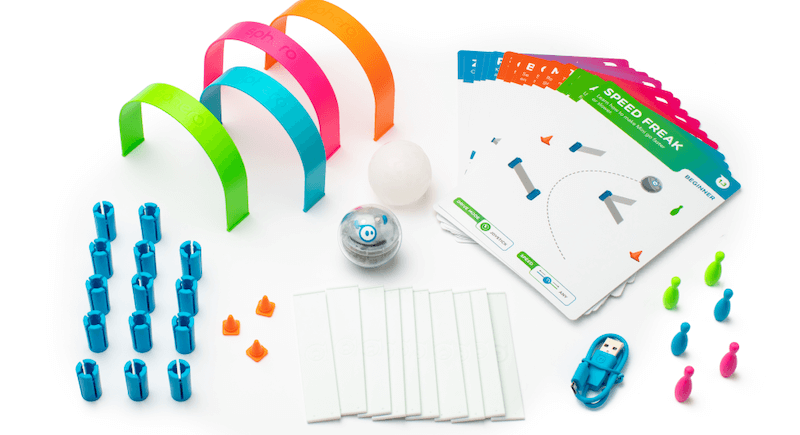 Sphero Mini Education Pack

The Sphero Mini, in spite of its small size, offers a very extensive set of possibilities for remote, hybrid, and in-person STEAM instruction. That small size makes it easier for students of any age to use the Mini and its different methods of programming make it viable for students with different experience levels. The Sphero Mini Education 16 Pack comes with 16 robots as well as box sets of activity cards. The activity cards help teachers (or parents) facilitate step-by-step STEAM exercises and the compact nature of the robot and accessories help make it a nice option for learning anywhere. Plus, the components are also easy for educators to distribute and for students to transport back and forth between home and school or throughout different areas of the home. 

Students can program the Sphero Mini with a variety of devices, including computers, laptops, tablets, and phones. Using the Sphero Edu app, they can code using the Draw function by simply using their finger to draw a route for the robot, create block-based programs using graphical Scratch blocks, or, once they're more experienced, write text-based programs using the JavaScript language. In both the Mini Education Pack and the Sphero Mini At-Home Kit, activity cards are included so students can take part in guided STEAM challenges. The activity cards can also be accessed online in a PDF format and include indicators of whether that particular activity is designed to be used with block coding or with the Draw function. This helps students quickly determine how much programming is needed to complete each challenge and helps them figure out how to start. 

The cards also include QR codes so that students can open what they need in the Sphero Edu app by scanning the card. The cards include diagrams of what they should do to complete the project and step-by-step instructions for each activity. The first one, for example, is The Aim Game. It takes just five steps to complete and involves creating a simple block program to get the robot to roll towards one of the mini bowling pins. The card also includes helpful hints and suggestions for students if they get stuck. The rest of the activities include more and more of the accessories and also involve more complex programs for students to run. All in all, the activity cards are very easy to follow, making them valuable resources for both teachers and parents to use at home. Find the Sphero Mini kits and additional accessories on our store!


littleBits STEAM+ Class Pack

As its name might imply, the STEAM+ Class Pack is probably the most robust littleBits kit that's been created yet. Besides being able to support up to 30 students in hands-on making and inventing, the STEAM+ Class Pack also includes helpful curriculum and project guides for teachers, students, and parents. Since it's built to accommodate 30 students in the classroom, educators should be able to distribute the components among 10-15 students if they're taking pieces home or spreading out in the classroom for some individual inventing. The kit includes a whole bunch of littleBits components -- everything from the different types of Bits to accessories like rechargeable batteries, USB cables, mechanical arms, DC motors, wheels, mounting boards, and even carrying cases, making the opportunities for unique inventions almost endless. 

The real reason we're interested in the STEAM+ Class Pack for the purpose of this post, however, is, of course, the supplemental content educators can access and share with parents. With so many littleBits inventions among the possibilities, it can be very helpful to have these guides in place or to be able to share them around for students learning in different locations. In total, the Class Pack contains over 240 Bits alone and, thanks to the codeBit, it can be used in conjunction with the littleBits Fuse app so students can design programmable circuits remotely. Included in the content are more than 40 standards-aligned STEAM lessons students can complete with the littleBits components. Lessons can also be accessed through the littleBits Classroom portal and include some for unplugged activities, some that require coding, and others as well. 

If you were to purchase this class pack, you would obviously get physical copies of the teacher's guide and littleBits lessons. That content is also available digitally through littleBits Classroom or the littleBits website. The content includes helpful information for teachers who are new to littleBits before giving way to the in-depth lesson guides. The content can be accessed in a Google Doc with links to many of the different individual projects students can complete with the STEAM+ Class Pack. Some of the projects include inventing a security device, inventing a chain reaction contraption, and inventing a self-driving vehicle. The curriculum guide also includes tips for different types of assessment and the option to provide feedback to students using a feedback chart. 

If you have any questions about any of these kits or the curricular content that goes along with them, feel free to contact the Eduporium team! For the latest EdTech, STEM, and 21st century education news, follow Eduporium on Twitter and Instagram, like us on Facebook, or sign up for our newsletter for announcements on the best EdTech deals around! Have an idea for the next Eduporium Weekly theme? Send us a message on any of our social media accounts!